Sake Business Laboratory Forum Plan
Sake Business Laboratory online forum is an online community run by Sake Business Laboratory, headed by a team with a shared passion to creative new Sake business across the globe.
For a monthly member's fee members receive access to services such as online gatherings, Zoom meetings and a private Facebook group.
Whether you are already involved with a Sake-related Business, looking for that next Sake qualification, or about to start a new Sake Business, the Sake Business Laboratory online forum provides a place to connect with the information and the human business connections you need to succeed.
Members are provided with a forum for all their Sake business-related needs: learning, discovery, promotion, sharing, challenging, collaboration and forming global links .
The basic language is English or Japanese.


Fee
The services are currently being provided free on a trial basis.
A valid personal Facebook account is required to register.
Member Benefits
Benefit 1
Thrilling talk sessions with SAKE business-related people from all over the world
SBL members can conduct detailed discussions with SAKE business-related people anytime, multiple times, throughout the year, and all for the equivalent cost of a 3 day (4 night) business trip from Hong Kong to Japan (Japan to Hong Kong).
Each SBL community member's profile and past discourse can be previewed before interacting to ensure you connect with the most suitable person for your needs.
Just as for hundreds of years SAKE has been an important communication tool and no celebration has ever been complete without it, SBL connects you with people all over the world through SAKE.

Benefit 2
Facilitated by a bilingual team with expertise in global SAKE business.
Facilitation ensures discussion is constructive, cordial and effective by preventing misunderstandings caused by language and cultural differences.
Facilitators include bilingual SBL navigators with a deep, wide-ranging understanding of SAKE business such as Sarasa Suzuki.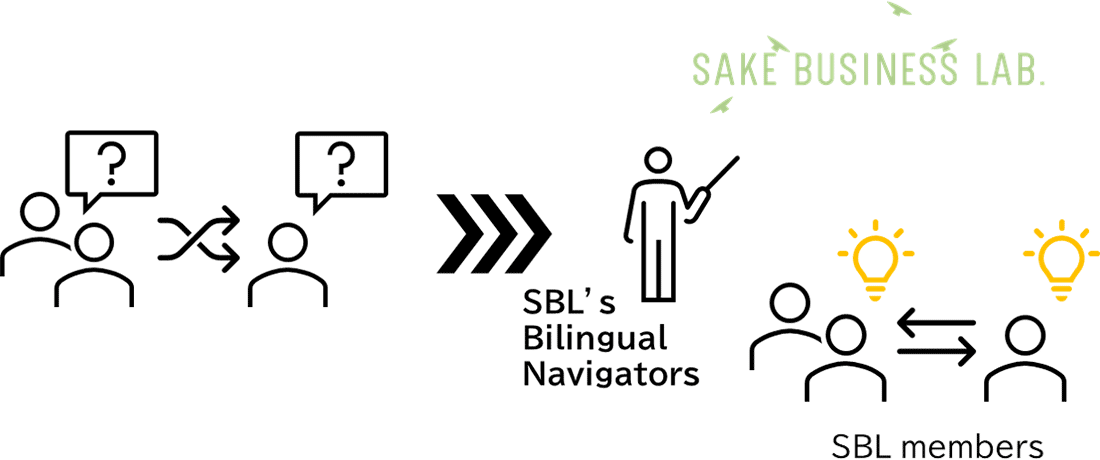 Benefit 3
Webinars and other media providing specialist information plus occasional tastings.
Every month, the SBL community will host an in-depth discussion around a chosen topic which will be supported by specialist materials, video and webinars providing related specialist information to add depth to the discussion.
For example, a discussion about how in-house rice cultivation adds extra value to SAKE might include a navigator-guided webinar where a brewer growing their own rice explains their vision and provides insight about rice growing.
From time to time, such webinars may also include special guided tastings where you can taste a SAKE accompanied by a live tasting commentary from an industry specialist or navigator.

Example of contents
Discussion with Sake specialists, Sake business showcases, reviews of trending Sake, sake brewery reports, tasting seminars and Live commerce,etc. 

Sake specialist discussion topic examples:
cultivation/brewing/research/tasting/foodpairing/exports/TECH/tourism/overseas markets,etc.
Benefit 4
A potential source for new SAKE business-related opportunities (income).
Proactively partaking in the various discussions in the group may connect you to people who relate to or share the same ideas which may in turn create new business opportunities (income).
The SBL navigation team is built to support your business. Need a mentor? then perhaps serial entrepreneur Murakami can lend his experience in the digital realm, or for advice on PR strategy, PR strategy consultant Tsuchida is your guy while account producer Takahashi may even be able to help co-produce your business.
As they add new clients to their rich portfolio of global SAKE expansion, SBL staff may also reach out to SBL members from time to time to invite them to join or assist with new business projects.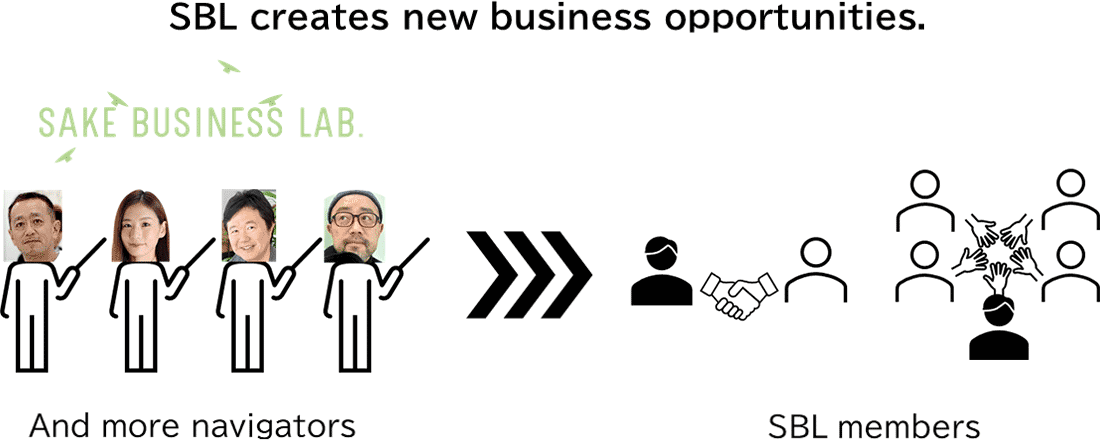 Notes of caution
This online forum is provided via a private (closed) membership. Members must agree not to divulge sensitive information obtained in the forum outside. (some member/client projects may not yet be public, all information in the forum will be treated as confidential) and legal action may be taken against members who break this rule.
Behaviour which disrupts the community order such as slander and trolling against management and or members will result in being asked to leave the group.
Members whose Facebook account is not registered with their real name, without a profile photo, with no friends or that is deemed to be inactive will be refused entry to and ejected from the group.
Leaving
Please send requests to leave the forum here.
Removal will be complete within 7 days of receiving the request.

*Due to high volumes of enquiries, it may take a little longer for requests received at the start and end of the month to be processed.
*Requests received at the end of the month may be processed the following month.
*Please read our Terms for Online Service for more detail here.